Back to all posts
Posted on
School Bus Safety Week - October 17-23, 2021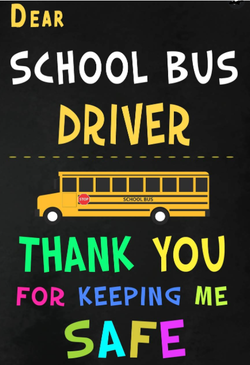 If you see your bus driver, make a point this School Bus Safety Week to say thank you for the wonderful job they do.  Trying to keep their eye on the road, while making sure students are wearing masks, sitting in their seats and that the bus and students are sanitized is no easy task.  We are lucky that we have such dedicated bus drivers as there are driver shortages across the province where some families don't have a school bus to get their children to school. 
Just like it is the bus driver's responsibility to safely transport the children to and from school, it is the parent or guardian's responsibility to make sure their children get safely to and from the bus stop, wear their mask and don't go to school if they are sick. 
Help bus drivers keep our students safe, DO NOT PASS a school bus from either direction when the RED LIGHTS ARE FLASHING.  Amber lights are a warning to motorists following or approaching a bus that they are slowing down to make a passenger stop.  Passing a school bus puts children at risk.  Together we can continue to make the school bus the safest means of student transportation.  
If you see someone pass a school bus with its red lights flashing, please call your local RCMP to report them, it is a $567 fine and 6 demerit points.  Some of our contracted school buses are equipped with video cameras on the outside of their buses to catch violators.  The Provincial School Bus Safety Slogan for the Red Flashing Light Awareness Campaign is "REDS FLASHING…NO PASSING!"  One fly-by is one too many!